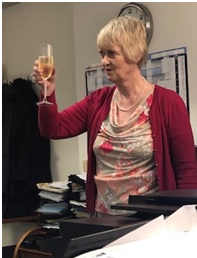 Clare Walters, our Programme Manager, has started a new chapter in her life as she has recently taken early retirement from PAI.  Clare has been a friend and colleague for over twenty years and joined us very soon after we first opened our doors to our clients.  As a key member of our team, she will be hugely missed not only by us but also by our Workshop Directors and workshop contributors, as well as our clients and participants from all over the world.
Claire Cameron, one of PAI's Directors, paid tribute to Clare:  "Clare and I have been working together for many years.  She has made an outstanding contribution to the success of PAI and we are so grateful to her for her professionalism, energy and total commitment.  We wish her a very long and happy retirement".
We are delighted to say that Clare will not be completely retiring, as she will continue to do occasional work with us.
Amanda Anderson (amanda.anderson@public-admin.co.uk) has taken over from Clare and we all wish Amanda every success in her new role.  Good luck to both of them!